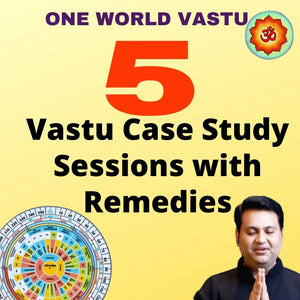 Join Vastu Case Study Sessions with Acharya Sagar Chug 
Details of Case Studies To Be Discussed During Sessions
What You Will Get?
1. 5 Vastu Case Studies Videos + Reference PDf Notes of Each Case StudyThe complete client First Information Report noted during the meeting +
2. The Gridded Layout of Client Based in 16 Vastu Directions & 32 Vastu Entrances +
3. Earth Energies Bar Chart  +
4.  Remedies Recommended/Performed at Client Site.
Case Study 1:  Residents Facing Problems Related To Money, Relationships, Depression & Aggression, 
Case Study 2:  Residents Facing Problem Related To Financial Recoveries, Bank Loans, Enimity & Gains.
Case Study 3: Residents Facing Health Issues, Unexpected Death in Family & Paranormal Activities.
Case Study 4: Residents Facing issues with Child Marriage, Child Studies, Child Drug/Alcohol Addiction & Child Inferiority. 
Case Study 5: Residents Facing issues with Sense of Insecurity at Work Place, Disturbed Relationships at Work Place, Long-Awaited Promotions, Instability in Work, Over Stressed & Blocked Mind, Unable to Find Solutions to Work Place Challenges.
What You Will Learn in Sessions 
1. Easy Vastu Steps for Practical Working at Client Sites.
2. How To Make Professional Vastu Reports For Your Clients.
3. Unique Formulas that will help you in Perfect Vastu Analysis For Best Remedies.
4. Instructions For Draftment to Make Layouts for Your Client. and much more...
PLEASE NOTE: SESSIONS ARE IN HINDI AND YOU MUST HAVE GONE THROUGH ONE WORLD VASTU EXPERT COURSE WHICH IS ON OUR WEBSITE.. 
Please note  Fee once paid will not be refunded back in any circumstance what to so ever, you will be responsible to be in good internet network and electricity-backed up PC/Laptop/Mobile.
Video Recordings of Session Will Be Provided To You For 1 Year For Your Reference.
Nothing will be dispatched via courier, it's an online session on Zoom.