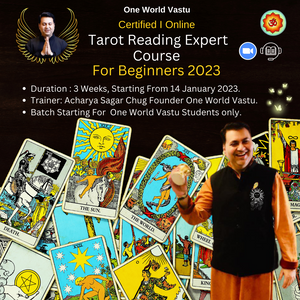 Have you always wanted to Learn How to Read Tarot Cards ?
Join One World Vastu Exclusive Live Tarot Card Expert Course For Beginners, Course is as always designed in the easiest and step-by-step learning process by Acharya Sagar Chug.

Learn in a most beautiful way and get connected with your inner Self by KNOWING UNKNOWN SPIRITUAL POWERS IN YOU.
Course Starting from 14 January 2023, Saturday...
Trainer: Acharya Sagar Chug.
Duration 3 Weeks, Weekend Live Interesting & Interactive Sessions in Night AT 09:00 PM - 11:00 PM
"I will help you to get connected with Rider Waite Tarot Deck Cards and will teach you to read them in the easiest and most accurate ways of predictions, I will also help you to develop your own interpretation of Magicals Tarot Cards By Exploring your inner self, it's a time for you to get connected with Known but Unknow Spiritual Powers in You.
Get Enlighted with Powerful Meditation Techniques which I will share with you during the course, Will teach you on Mystic Part of Safe Guarding You and Your Tarot Deck from Dark Energies so you become a Courageous and Confident Tarot Reading Expert."

 
Acharya Sagar Chug.
What You Will Learn :
Introduction to Tarot Cards.
History of Tarot Cards.
Description of 78 Cards.

Easy & Confident Learning to Read Cards.
Your Strength and Weakness Cards.
Learn To Cleanse Energy Around You.
Learn to Cleanse Tarot Deck Energy.
What are Major Arcana Cards?
Major Arcana  - Interpretation of Life Journey.
Minor Arcana with Interpretation of Events.
Lean Divine Meanings of Each Minor Arcana.
Decode Hidden Messages in Cards.
Learn to Read Symbols, Signs, Colours, and Pictures.
Elements Associated with Cards.
Horoscope, Pyramid, and Swastik Spreads/Different Layouts.

Learn to Interpretation a Card as per Situation
Practicing with Cards.
Q & A Sessions.
What You Will Get
Student Support Group.
Reference Notes.
Recorded Session - Stay with you for 6 Months.

Course Completion Professional Certificate.
Base:  Rider Waite Tarot Deck