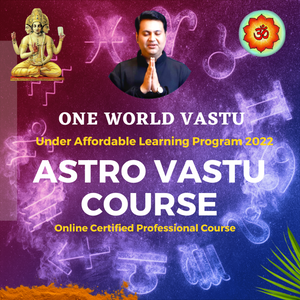 This Course is under Affordable Learning Program 2021 by One World Vastu.

Certified Course with Recorded Lectures on Vastu Shastra +  No Extra  Charges on Course Repetition, Study Support Groups, Master Classes and much More  
You will Learn Mapping Vastu Doshas in using Astro Vastu Technique with help of KP Astrology (Hits), Hit Break, Remedy to Activate Dormant House in Horoscope, you will also learn the Basics of Vedic Astrology in this Course.

You will Get Access to Study Material, Reference, Notes, Step by Step Easy Guided Video Sessions, No Student Support Group.

Check List to Do This Course : 
Must be Enrolled or Completed Vastu Expert Course.

Course Overview 

Introduction to Astrology.

12 Houses &  Significance.

9 Planets &  Characteristics.

12 Zodiacs & Representation.

.Making of Horoscopes.

Reading of Horoscope.

Mapping Dasha in Horoscope.

Mapping Yogkarak & Marak Planets in Horoscope.

Planets & Their Influence on You as Person.

Planets & Your Strengths.

Planets & Your Weaknesses.

Know Which City and State Can Change Your Life.

Selection of Right Education, Business/Job as per Horoscope.

Cause of Pain in Life.

Type of Astro Remedies.

Selection of Astro Remedies.

Selection of Plot/House as Per Astrology.

.Astrology & Business/Life Partnership.

You will get Access to Recorded Videos + Reference Notes

Astro Timeline Technique.

Study material is mixed in Hindi and English, Trainer will teach in Hindi.

Please Note Course Video Training is in Hindi Language and  you may send whats app to us on +91-7303314844 with request to add you in Telegram Group of Students.

 Its sole discretion of Acharya Sagar Chug & One World Vastu Team to give you access of Student Support Telegram Group.

NOTE: ACCESS TO ANY ONLINE TOOLS/COURSE MATERIAL/CLASSROOM IS AVAILABLE FOR 6 MONTHS FROM THE DATE YOU JOIN THE COURSE.

Note:
You will get Pre-recorded Videos for this course. (No Live Sessions)
No support in group is available for students for updated on courses and contents.
Course Fee Once Paid is Non-Refundable/Non-adjustable - Non-Transferable to other person or course in any circumstances whatsoever.