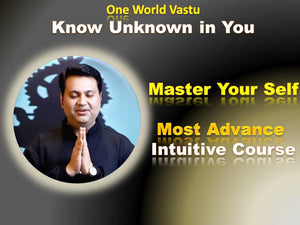 In this course, you will learn to work with your intuitions, course is a step-by-step guide to get you connected with your Subconscious Mind, We have not mentioned course duration as this is ongoing Vedic Practise and its results are limitless.
Course Overview:"Know Unknow in You"
Meditation (Dhyan)
Panchtattva Advance Level Meditation Practise with Acharya Sagar Chug.
Expereince Cosmic Energies Around You While Meditating.
Get Connected To Your Soul While Meditating.
Learn Different Mudras During Meditation.
Feel Power of Your Muladhar Chakra.
Sense Opening of Your Chakras Like Blossom Flowers.
Advance Level Dhyan to See Far Sighted Objects.
Learn to Decode Angel Messages During Meditation.
Ultimate Expereince to Scan Your Self During Meditation.
Elememts (Tattva)
Get Connected with Your Tattva (Nature), Decode Your Real Unknown Self.
Find Tattva of Person you are Dealing and Learn to Deal with Person according to his Tattva.
Balance Your Tattva with Meditation and Vedic Diet.
Tattva Shudhi Healing Techniques with Hands and Meditation.
Learn to See Elements at Client Site and find Disturbed Elements.
Rectification of Hidden Vastu Dosha with Element Healing Therapy.
Vedic Diet
100% Weight Management Diet to Experience High Level of Intuitive Experience.
Guranteed Weight Loss by Following Vedic Diet (There are no Side Effects of Diets infact you feel lighter and energetic, you dont stay hundry as diet is planned in a way that you dont feel craved or drained).
Selection of You Choice of Food to help you reinstate in Your Balanced Mind and Soul.
Super Subconcious
Guidance to Activate Your Unknown Powers of Subconcious Mind
Experience your Mistic connection with your Super Subconcious. 
Practicle Expercises to  Do Checks on Your Subconcious Activation.
Finding Vastu Dosha with Power of Subconcious Mind.
Find Hidden Objects and Doshas While Working on Client Site.
With Power of Your Super Subconcious Change Moods of Person and Make Him Agree to Your Business Terms.
Learn To Get Desirable Changes in Life and Live in Health and Beautiful Self Connected Environment.
Siddhi :
(When You Practise a Particular Process Number of Time and Get Expertise in It its called Siddhi, Like Sidh Karna Kisi Karyeh Ko)
Vag Siddhi (You Must have come across people in Life who Say Something and it Happened in You Life, this process is called Vag Siddhi. Learn How to Siddh Your Words.
Far Sighted Siddhi (Experience Power of your Super Subconcious Mind and Visit Places without Physically Visiting Them and Find Vastu Dosha) 
Experience what a person is wearing while coming to meet you, what he is going to talkabout in meeting, and learn how to mature meetings on your terms and condition).
Nadi (Pulputation) Gyan
Learn to Decode Nadi Shastra Self Pulse or Pulse of Person Diagnose Prakriti of Plot he is Residing or Planning to Buy.
Decode Land Usage with Nadi (Pulse).
Hand Scanning
Check Aura of Person with Hand Scanning.
Find Imbalanced Devta Fields with Hand Scanning.
Find Planetary Dosha with Hand Scanning.
Mapping Vastu Dosha with Hand Scanning.
Decode Messages Your Hand is Giving You Whlle Talking to a Person.
Mapping of Devta Frequecies with Help of Advance Tools.
Healing Powers
Activate Your Healing Powers and Heal from Far Distance.
Importance of Chanting, Hawans and Yajna to Manifest Your Desires.
Powerful Yajna Practise Guidance to Win in All Situations of Life and Get Name and Fame.
Feel and Visualize Earth Energies Around You and Heal Distubed Energies.
Astreal Body 
Understand Astreal Body Travel and Its Importance.
Feel Astreal Traveling in Real Time.
Amaxing Experience to Travel and Visit Your Dream Place without Even Physically Visiting Them
Panchtattva 
With Your  Taste Buds Find Element Dominated in Case Study You Are Working.
With Power of Smell and Sound find Domnicating Element in Client House.
Finding Elemtal Vastu Dosha with Sensation in Your Body.
Hand Scanning to Find Vastu Dosha at Client Property
Body Chakras
Body Chakra Balancing Technique and finding Blocked Chakra.
Treatment of Chakras with Meditation Practises 
Open Your Chakras with Help of Sacred Stones.
Activation of Chakra with Mantras.
Chakra Healing with Power of Aroma.
Brain Frequencies:
Understand different Level of Brain Frequencies.
Learn to Align Your Brain Frequencies according to Situations in Life.
Decode Hidden Powers of Your Brain.
Experience Alpha to Delta Waves.
Advance Master Tools 
Use of Y Antena (Scanner)
L Anetea (Scanner)
Dev Antena (Scanner)
Aura Scanner
Dowsing 
Tools Cost Included in Course Price.
Shipping Cost of Tools Not included in Course Price.
Training will be given in Hindi Language.